Return to Headlines
Ten Orchard Park High School Seniors Commit to Play Collegiate Sports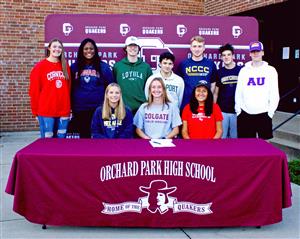 Ten Orchard Park High School seniors committed to play their sports at the college level in 2022. The student-athletes celebrated during a photo opportunity outside the high school gym on Wednesday, November 10.

Listed below is each student-athlete, where they intend to attend college and what sport they intend to play:
Sean Becker, SUNY Brockport, Baseball
Emily Brock, Medaille College, Bowling
Madalyn Covelli, Cornell University, Softball
Patrick Evans, SUNY Niagara, Baseball
Miles Haak, SUNY Canton, Soccer
Olivia Lucidi, Gardner-Webb University, Lacrosse
Brady McGowan, Alfred University, Lacrosse
Grace Schmelzinger, Colgate University, Field Hockey
Joshua Stegner, Loyola University Maryland, Swimming
Madison Stevenson, Howard University, Basketball

Sean Becker intends to play baseball and study accounting at SUNY Brockport. He has maintained an average in the high 90's throughout middle and high school while playing both school and travel baseball as well as ice hockey. Throughout Sean's 12 years of playing baseball, he has played nearly every position and primarily covered third base for Orchard Park High School.

Emily Brock intends to join the bowling team and study business administration with a minor in sports recreation and management at Medaille College. She has bowled since age 3, starting at Kenmore Lanes – where her mother worked at the time. Emily enjoys the atmosphere of team competition and is excited to bowl at the collegiate level.

Madalyn "Maddie" Covelli intends to play softball and study applied economics and management with a concentration in finance at Cornell University. She aspires to become a financial analyst and eventually advance to the level of chief financial officer. Maddie chose Cornell University for its academic rigor, quality softball coaching staff and Ivy League competition. She began playing softball eight years ago. Maddie earned ECIC I First Team honors in 2021 as a pitcher.

Patrick Evans intends to play baseball and study business management at SUNY Niagara. He felt inspired by his older brothers to play baseball, beginning 12 years ago. Patrick is impressed by the coaching staff at SUNY Niagara and is confident their expertise will help improve his play.

Miles Haak intends to play soccer and study graphic and multimedia design at SUNY Canton in northern New York State. He first began playing house league soccer 13 years ago. Miles chose SUNY Canton for its academics, the campus and the opportunity to continue playing soccer at a competitive level.

Olivia Lucidi intends to play lacrosse and study nursing at Gardner-Webb University, a private Christian university located 50 miles west of Charlotte in southwestern North Carolina. She is excited for the opportunity to play Division 1 lacrosse while gaining knowledge to become a nurse practitioner or anesthetist. Olivia first began playing lacrosse 12 years ago in kindergarten and received coaching instruction from her father.

Brady McGowan intends to play lacrosse and study elementary education at Alfred University. He began playing the sport in high school upon inspiration from his older siblings. Brady chose Alfred University for its class sizes, campus, outstanding lacrosse coaches and the opportunity to learn how to teach young children.

Grace Schmelzinger intends to play field hockey and study political science at Colgate University, located in Central New York. She aspires to graduate to law school and eventually work for the federal government in Washington, D.C. Grace first began playing field hockey 10 years ago and became acquainted with Colgate University through training with the prestigious USA Futures Program. She believes Colgate offers the perfect combination of academic and athletic challenge as well as a strong sense of community. As a field hockey player, Grace achieved First Team All-Western New York and Section VI All-State.

Joshua Stegner intends to participate in men's swimming and study business and real estate at Loyola University Maryland in Baltimore. He first began swimming at the local YMCA 12 years ago and enjoys it as a competitive sport. Joshua chose Loyola University Maryland for its competitive Division 1 program as well as the university's strong academics and beautiful campus. He hopes to also be a personal trainer later in life. This past March, Joshua and three teammates set a Section VI record and All-America qualifying time of 1:34.56 in the 200-yard medley relay.

Madison Stevenson will fulfill a lifelong dream to play Division 1 basketball at an HBCU (historically black college and university) when she attends Howard University in Washington, D.C. in 2022 on a full athletic scholarship. Madison will study marketing and management before applying to law school. She aspires to own a sports agency and represent professional athletes. Madison is 6'4" tall and joined Orchard Park's varsity women's basketball team in 8th Grade. She is excited to attend an HBCU and learn more about her heritage.